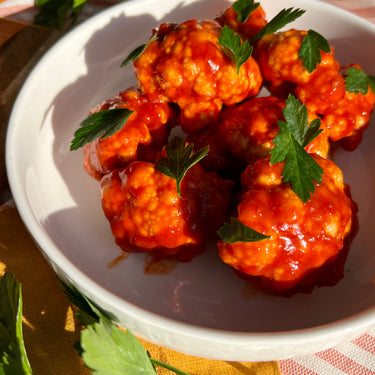 Korean-inspired Cauliflower Wings
Any chance to use the versatile Korean pantry staple gochujang, promises a deeply satisfying meal. These 'wings' are sweetish and tangy and umami and the cauliflower lends itself well as a meat replacement due to its toothsome texture. We love them with a spread of dipping sauces, crunchy lettuce cups and a cold bubbly beer. 
Ingredients
1/2 cup Gochujang
1 Tbsp sesame oil
1/4 cup coconut aminos
2 Tbsp Just Date Syrup
1 pinch sea salt
1 Tbsp chili garlic sauce
2 Tbsp Water
1 head of cauliflower - broken up into florets
avocado oil for baking
Preheat oven to 450 F
In a large mixing bowl add cauliflower florets and toss with oil. Arrange on a baking sheet lined with parchment paper and roast for 10 minutes.
While you wait, get the sauce ready. In a mixing bowl throw in gochujang sauce, sesame oil, coconut aminos, Just Date Syrup, sea salt, and chili garlic sauce. Mix everything together. Make any necessary changes to its flavor. To increase the spiciness, add more chili garlic sauce. To enhance the flavor, add more coconut aminos. If you want it sweeter, add more date syrup. And if you need more saltiness, add more salt.
Take the cauliflower out of the oven and turn up the heat to 500°F (260°C). Add a few pieces of cauliflower at a time to the sauce and gently toss until they are well coated. Tap off any excess sauce and place them back on the baking sheet. Repeat this process for all the pieces of cauliflower. Put them back in the oven and bake for an additional 10-13 minutes, or until they are sizzling, golden brown around the edges, and tender but not soft.
While the cauliflower is baking, you can prepare any additional serving elements, such as these three dipping sauces. Serve the wings immediately, as they are best when fresh.