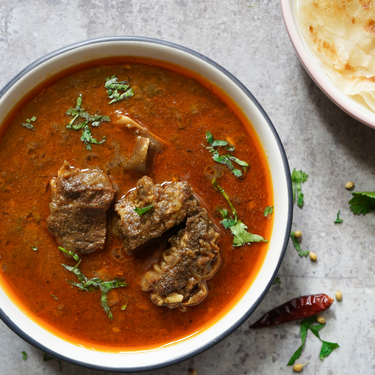 Lamb & Prune Tagine
This recipe was submitted by Rhea Sajidi who loves to use our pomegranate molasses in her traditional Lamb and Prune Tagine. We tried this recipe also in our test kitchen and discovered it was also absolutely delicious as a vegetarian dish. it is just the right balance of umani, sweet and savory that creates a comforting spicy aroma in your kitchen.
Ingredients
2-3lbs of Lamb (I prefer shank but you can do neck and/or shoulder) or 15 ounces of garbanzo beans
1 large onion or 2 small - chopped
1 bunch of cilantro - chopped (save a little for garnish)
3 cloves of garlic - minced
Pinch of Saffron seeped in 1/2 cup boiled water
6-8 ounces of broth of choice
6 tbsp of Just Date Syrup
8 ounces of pitted prunes seeped in Chamomile tea
1 1/2 tsp of cinnamon
1 tsp of turmeric
1/2 tsp of ginger
1/2 tsp of Ras El Hanout spice mix
2 tbsp of extra virgin olive oil
2 1/2 cups of water
Optional:
Sliced almonds
3 hard boiled eggs sliced
Place the olive oil, chopped onion, cilantro, garlic, lamb (or garbanzo beans), broth, spices, and saffron mixture with water into5.5 quart dutch oven on low-medium heat. Cover and leave for 2-3 hours.
Then add the organic date syrup and pitted prunes into the pot. Heat uncovered for 15-20 minutes.

Place the tagine onto a big serving bowl topped with hard boiled eggs sliced, and fresh cilantro. Optional: you can add sliced almonds for a crunch! Serve immediately with bread, rice, or couscous!