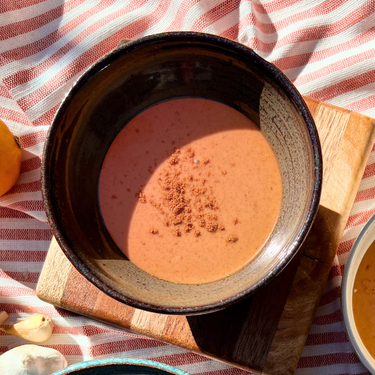 Low-Sugar Filipino Banana Ketchup
If you're not familiar with this condiment, you gotta try it. Back in World War II, when tomato ketchup was in short supply, people in the Philippines got creative and turned to the plentiful bananas available. They mixed bananas, vinegar, and sugar to create a makeshift version of ketchup, which they then tinted red to make it look the part. This isn't your ordinary ketchup, my friend. Banana ketchup is a one-of-a-kind, delicious condiment that's getting some well-deserved attention.
Ingredients
1 tbsp oil
2 cloves garlic, chopped
1/2 small onion, diced
1 tsp fresh ginger, chopped
2 bananas, mashed (roughly 1 c)
1/4 cup tomato paste
1/4 cup Just Date Syrup
1/2 cup white vinegar
1/2 cup water
1/8 tsp cayenne powder
Heat the oil in a medium sauté pan over medium heat. Toss in the garlic, onion, and ginger. Sauté them for about 5 minutes until they become soft and aromatic.
Next, add the mashed bananas, tomato paste, and date syrup to the pan. Give everything a good mix, ensuring all the ingredients are well combined.
Introduce the vinegar, water, and cayenne powder into the mix. Stir everything together thoroughly and let the mixture come to a simmer. Once simmering, reduce the heat to medium-low and allow it to simmer for approximately 5 minutes. This will help the mixture thicken slightly.
Remove the pan from the heat and let the mixture cool down a bit. Once it has cooled, transfer it to the bowl of your food processor or blender. Blend the mixture until it reaches a smooth consistency.