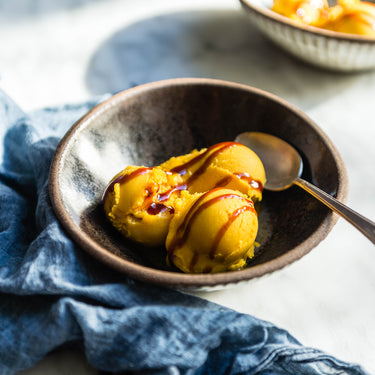 Mango Date Frozen Yogurt
Here's an (almost) guilt-free summer dessert that takes hardly no effort, but yields delicious results. Frozen yogurt, sweetened with Just Date Syrup and mango, is a refined sugar-free treat that doesn't taste like something's missing.
All you'll need to make this no churn mango date frozen yogurt recipe is a high-speed blender, and ice cream maker and a little patience while it firms up in the freezer. If you like more of a soft-serve texture, you can spoon this dessert right out of the blender. Freezing it yields a more ice-cream like consistency.
Ingredients
3 cups frozen mango chunks
¼ cup date syrup
1 pint plain, unsweetened whole milk yogurt
¼ cup heavy cream
2 tablespoons coconut oil, melted
1 tablespoons pure vanilla extract
1/4 teaspoon sea salt
Place all the ingredients in a high-speed blender and process until smooth and creamy, about 2 minute, scraping down the sides as necessary. Place in an ice cream maker to churn.
Pour the mango mixture into a freezer-safe pan. Cover and freeze for a least 3 hours or overnight. Let sit at room temperature for a few minutes before serving."