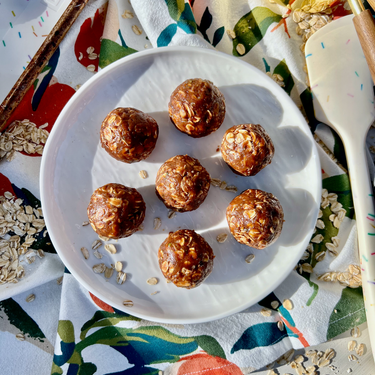 Nostalgic Low-Sugar No-Bake Cookies
Bring back childhood memories with these nostalgic, low-sugar, no-bake cookies. With a delicious combination of chocolate and peanut butter, these simple and easy-to-make treats will melt in your mouth. Perfect for baking with kids, and ideal for those with allergies, these cookies are made with pantry staples and are a great snack for after school or a special treat. They are gluten-free, dairy-free and can easily be peanut-free. Give your oven a break and make these nostalgic delights today.
Ingredients
1/2 cup coconut or almond milk + 2 tablespoons
3/4 stick (6 tablespoons) unsalted Miyokos vegan butter
2 tbsp unsweetened cocoa powder
1 cup date sugar
1/2 cup smooth peanut butter or sunflower butter
1.5 tsp pure vanilla extract
3 tbsp hemp hearts
1.5 cups old-fashioned rolled oats
Large pinch kosher salt
Line a baking sheet with wax paper, parchment or baking mat.
Bring the milk, butter, and cocoa to a boil in a medium saucepan over medium heat, stirring occasionally. Stir in the date sugar until well incorporated. Turn the heat off. Add the peanut butter, vanilla, and salt, and stir. Next, add the oats and hemp seeds and stir to combine.
Roll tablespoons of the mixture into balls and put them onto the prepared baking sheet. Place the cookies in the fridge until cooled and hardened, about 30 minutes. Refrigerate in an airtight container for up to 3 days.