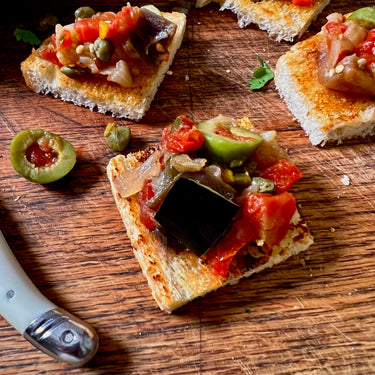 One-Pot Sicilian Caponata
Caponata is a little bit of heaven on earth. (In our opinion, of course.) The buttery eggplant, the tomatoes and olives and garlic, stewed in a little sweet vinegary-ness…absolutely divine. Traditionally, you'd use brown sugar to sweeten it but in this version date syrup takes its place beautifully. Maybe it's even better?? Here's our pro tip: whip up a quick batch in the instant pot. Impress your dinner guests with a tangy savory appetizer with crispy baguette slices. Tada! Save the rest in the fridge overnight and savor the rich melded flavor with eggs and buttery toast for breakfast. The next day is when it really comes alive and you can't beat it with a runny egg and a drizzle of Pomegranate syrup. 
Ingredients
1 large eggplant diced into ½ inch cubes
2 tablespoons olive oil
1 medium onion, chopped
2 stalks celery and some of the fresh leaves chopped
3 large garlic cloves, minced
2 bell peppers, diced - red or yellow
1 14-ounce can crushed tomatoes
3 heaped tablespoons capers
3 tablespoons thick sliced pitted green olives
2 tablespoons Just Date Syrup
3 tablespoons red wine vinegar
freshly ground pepper to taste
Salt to taste
On a busy school night, we like to throw all ingredients into an instant pot and set the timer on high for 10 minutes. If you have more time, you can start by slicing the eggplant into ½ slices and quickly browning the top and bottom on a hot skillet before cubing them and throwing them all together with the rest of the ingredients into the instant pot. It's excellent on top of crispy buttered baguette slices, on fried polenta cakes (our favorite!), and with pasta drizzled with high-quality olive oil. We also love it with a fried egg and a drizzle of Just Pomegranate Syrup.