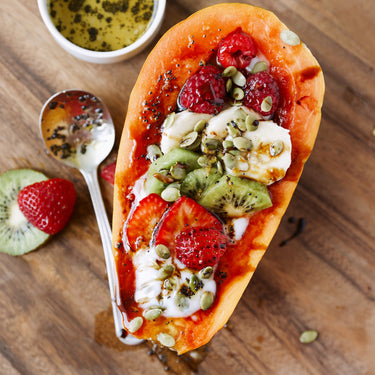 Papaya Fruit Bowl
Enjoy the last leg of the summer with a refined sugar-free Papaya Fruit Bowl with poppy and pumpkin seeds from Abby at @abbyaestheticsx!  
Ingredients
One whole papaya, with the center scraped out
Unsweetened yogurt of choice
¼ banana sliced
2 strawberries, sliced
½ kiwi sliced
3-4 raspberries
1 whole lemon
Grated lemon zest
¼ cup Just Date Syrup
1 Tbsp extra virgin olive oil
1 tsp poppy seeds
Handful of pumpkin seeds
Drizzle of Just Date Pomegranate Syrup
Make the dressing by combining the juice of 1 lemon, lemon zest to taste. date syrup, and the olive oil.
Cut your papaya in half lengthways and scrape out the seeds in the middle. Fill the center with your favorite yogurt - we love Cocojune unsweetened. Drizzle the dressing over the yogurt and arrange your fruit. Then drizzle more dressing and add your garnishes. Drizzle more date syrup and pomegranate syrup to taste. Put this on repeat, bon appetit!!