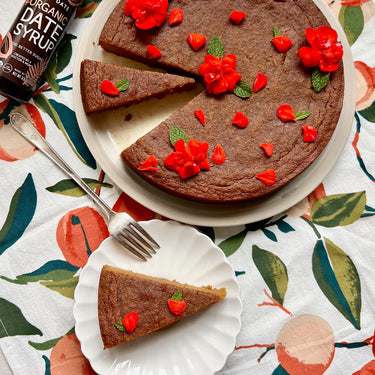 Passover Clementine Cake - Gluten-free, Low-sugar
Whether you just want a fun and easy baking project with your kids over spring break or are looking to spoil your family during passover - this cake is a magical enigma. It only has a few simple ingredients and the method is easy. Simply boil citrus fruit of your choice - clementines are traditional like in Nigella Lawson's recipe but we have used small oranges, mandarins, tangerines and meyer lemons (NOT conventional lemons) in our test kitchen and they have worked beautifully. Noticing a theme? Thin-skinned citrus is preferable here. During boiling, fruit gets syrupy inside and makes a vibrant pudding-like puree when you blend it in a food processor or vitamix. This ultra moist and spongy cake also falls under the category of a snacking cake. It's not super sweet. It keeps for several days on the counter under a dish towel. And a slice with a mug of hot tea is a perfectly indulgent - and healthy! - pick-me-up anytime of day. It's well paired with our chia berry compote gently warmed with a dollop of cool coconut yogurt for breakfast or iced with our 2 ingredient date sugar frosting.
Ingredients
2 small oranges or thin-skinned citrus fruit equivalent - the puree will come out to approx 1 1/2 cups - 1 /3/4 cups
4 large eggs at room temperature
¾ cups Just Date Syrup
2 tsp vanilla extract
2 cups almond flour (we do not recommend subbing a different kind of flour here)
1 tsp baking powder
1 tsp salt
Preheat your oven to 375 and butter a 9" cake pan.
Wash your fruit well. Add your fruit to a pot of cool water and boil for 1-2 hours or until the fruit is very soft. Remove the fruit and let cool for a bit. Gently pull apart the fruit to check for seeds and remove. Then puree the whole fruit in a food processor or vitamix until it's like pudding.
You may add the rest of the ingredients into the food processor but if you are using a vitamix - we recommend transferring the puree to a large mixing bowl. Add in the eggs, Just Date Syrup and vanilla. In a sifter, add almond flour, baking soda and salt and sift into the puree. Stir and pour batter into the cake pan.
Using a spoon, smooth the batter - as the pattern or texture you make here will show up in the final bake. Bake for 35-45 minutes in an oven of 375 or until a toothpick inserted comes out clean. Let the cake cool completely before decorating it with fresh edible flowers like geraniums and mint leaves, shown here, or our simple Just Date Sugar frosting. Fresh mint is a surprising and lovely complement to this cake!