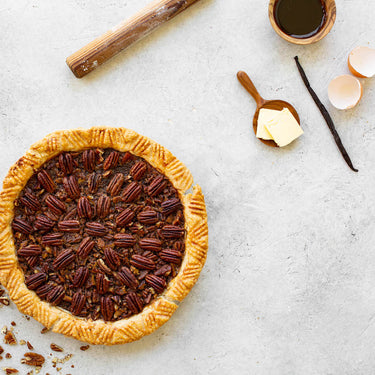 Pecan Pie
Everyone has an obsession, and ours is the delightful take on a classic pecan pie. Corn syrup be gone, because there's a new syrup in town...this pie is not only healthier than the original, it boasts flavor to the max. We thought to create this version because date syrup candied walnuts and pecans are a go-to in our test kitchen, so it seemed only natural to extend that delicious flavor combination to the classic pecan pie! The rich and deep flavors of date syrup are an excellent match for the combination of pecans, butter, and vanilla. The filling will take you less than ten minutes to make, and all you have to do is pour it into the pie crust of your choice, bake, and serve.
Ingredients
3 cups toasted pecans (2 cups chopped, 1 cup whole)
1 8.8 oz bottle of Just Date Syrup
4 tbsp unsalted butter
3 eggs beaten
1 tsp vanilla extract
1/2 tsp kosher salt
Preheat oven to 375. Prepare pie crust of choice. No parbaking necessary.
Whisk together melted butter and remaining ingredients. Fold in 2 cups of chopped pecans.
Pour into pie crust of your choice and top with whole pecans.
Bake pie for 40 minutes, rotating halfway through.
Cool for two hours and serve.