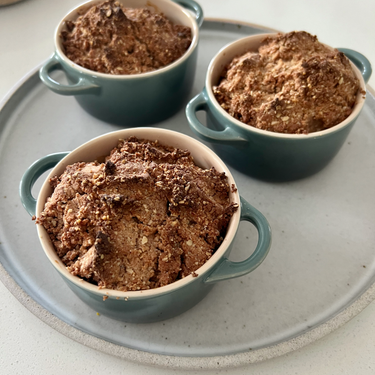 Perfect and Simple Apple Streusel
Recently, I was invited to a dinner party and about an hour before, the host texted 'Bring a dessert if you want!' Coincidentally, a friend brought a bag of perfect fall apples over from her backyard the day before. I knew what I had to do. This recipe is so dang easy and also so impressive it's practically unfair. It tastes exactly how you think a rustic fall apple crumble or streusel should taste and seems like you spent hours on it -- bonus points for the fact that it's refined sugar-free, vegan and gluten-free. If you have the ingredients and a good baking dish you're already halfway there. In the test kitchen we made individual desserts in ramekins but I have also made it in a larger dish for about 8-10 servings and it works just as well.
Ingredients
4-5 good sized apples, chopped in 1 inch pieces
1/4 - 1/3 cup of Chai Caramel
Streusel Topping
1/2 cup pecans (we've also used a combination of almonds and walnuts)
1 cup Just Date Sugar
1/2 cup + 1 tbsp all purpose flour or gluten-free 1:1 flour
3/4 cup rolled oats
1/2 tsp ground cinnamon
1/8 tsp ground nutmeg
1/8 tsp salt
8 tbsp cold Miyokos butter
Chop the apples and place them into a baking dish. Pour the chai caramel over the apples and mix thoroughly to coat and set aside.
In a food processor, add all streusel ingredients and pulse until it's in a fine crumble and place in your fridge.
Bake the apples covered in foil without the streusel in an oven at 350 for 15 minutes.
Remove the apples from the oven and top the apples with the cold streusel evenly. Bake for 20 more minutes or until the streusel is golden brown and you can hear the apples bubbling underneath.
Streusel adapted from a recipe in Good & Sweet by Brian Levy