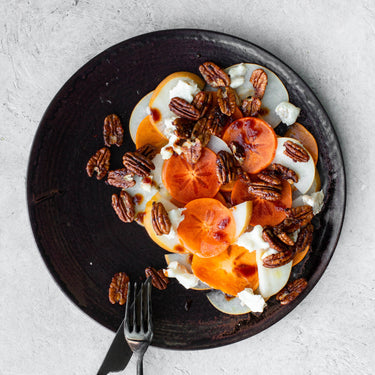 Persimmon & Pear Salad
Anyone else stuck with leftover ingredients from Thanksgiving? Some of us may have accidentally ordered 8 lbs of persimmons instead of 8, leaving a persimmon party behind in the pantry. While searching for ways to use this surplus, I came across Alison Roman's Persimmon & Pear salad. I used Asian pears, my favorite fall fruit (not true...it's a tie for pomegranates & Asian pears), sliced thin, and thicker slices of persimmon. Alison Roman suggests spiced maple syrup pecans, but we (expectedly) swapped for Just Date Syrup. Spiced and candied nuts are one of our favorite uses for JDS, and we think after trying these pecans, you'll have to agree. Top it off with some dollops of sweet gorgonzola, and this is essentially a cheese plate that you get to call a salad. Make this simple and genius 'Dining In' recipe with a JDS twist.
Ingredients
1 cup pecans
2 tablespoons Just Date Syrup
1 teaspoon Aleppo pepper
1 tablespoon olive oil, plus more for drizzling
Kosher salt and freshly ground black pepper
2 Asian pears, cored and thinly sliced
2 persimmons, thinly sliced
1 tablespoon champagne vinegar
3 ounces sweet gorgonzola
Combine the pecans, Just Date Syrup, and Aleppo pepper in a large skillet over medium heat. Cook, stirring constantly, until the date syrup bubbles, reduces, and crystallizes around the pecans, 5 to 8 minutes. They will look all white and fuzzy with an even layer of crystallized sugar coating each nut—this is what you want. Add the olive oil and remove from the heat; season with salt and pepper, and let cool completely before coarsely chopping the pecans.
Scatter the pears and persimmons around a large serving platter or bowl and drizzle with the vinegar and olive oil. Season with salt and pepper, and finish with the pecans and blue cheese.
Recipe adapted from Dining In by Alison Roman