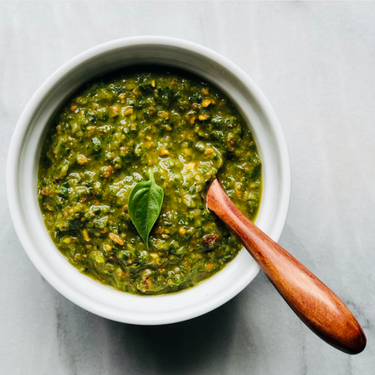 Pistachio Pesto Date Syrup Vinaigrette
A rich take on traditional pesto, this elevated pistachio pesto with Just Date Syrup is flavorful, impressive, and truly dresses up any salad - sure to impress your family or guests. Created by Bebe Black Carminito @champagneandcookies - vegan options and gluten free, it's a salad dressing perfect for a Caprese salad, roasted veggies, or toast/pasta.
Ingredients
1 clove fresh minced garlic
1/4 shallot or 1 Tbsp finely diced shallot
1 cup torn basil
3 Tbsp grated parmesan (nutritional yeast for a vegan substitute)
2 Tbsp toasted pistachios, roughly chopped
1 1/2 Tbsp champagne vinegar (other light vinegar works)
1 Tbsp Just Date Syrup
Zest and juice of 1/2 lemon
1/4 cup extra virgin olive oil
salt and pepper to taste
If your pistachios are raw, cook whole pistachios for a few minutes on a skillet over medium heat. Let them brown slightly and become aromatic - watch to avoid burning
In the bowl of a food processor, add garlic, shallot, and pulse a few time. Add basil and pulse to incorporate then add your parmesan or cheese alternative, pistachios, champagne vinegar, lemon juice and zest, Just Date Syrup and blend until smooth but still slightly chunky
With the motor running slowly, add the olive oil, salt and pepper, or stir them to combine.
Enjoy this on a caprese salad, toast, grilled veggies, or meats.