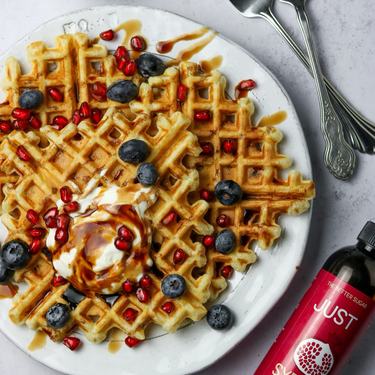 Pomegranate Chocolate Sauce
A decadent and bright pomegranate chocolate vegan sauce to top a cake, waffles or pancakes, ice cream, or drizzle on toast, this simple treat is packed with antioxidants and nutrients, but satisfies a sweet tooth using Just Date's Just Pomegranate Molasses and a few other ingredients.
Ingredients
¼ cup cocoa powder
2 tablespoons coconut oil or butter
¼ cup plant milk of choice
¼ teaspoon salt


Melt butter in a small pot. Once butter or oil is melted, add your milk of choice and cocoa powder to the pot and stir until evenly combined.
Bring the mixture to a simmer. Simmer for 5-10 minutes until it reaches a thicker, syrup-like consistency.
Remove from heat and stir in salt and pomegranate molasses. Allow to cool before pouring over ice cream, waffles, french toast, or pound cake.
Created and photographed by Hannah Zimmerman @bitesizedstudio