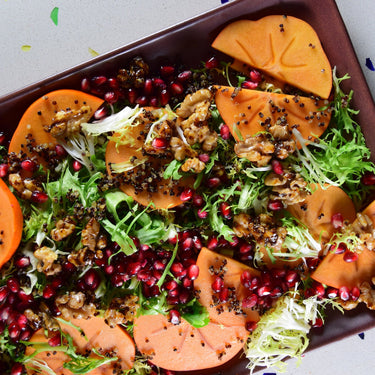 Pomegranate Persimmon Salad with Toasted Walnuts
This fall salad celebrates juicy, bright fruit - pomegranates and persimmons, with a hint of spice, a nutty crunch from walnuts, and a tart, healthy salad dressing made with Just Pomegranate Molasses and sumac. It's a salad you'll keep coming back for, and an easy vegan salad dressing to make in bulk for meal prep!
Ingredients
Salad Ingredients
2 pomegranates
6 fuyu persimmons (NOT hachiya)
2 heads of frisee or other light green
3 bunches of escarole or other crunchy green
1 cup walnuts
4 tbsp date syrup
1.5 tbsp dried red chili pepper (espelette, aleppo, marash)
1 cup of quinoa
Dressing
3/4 cup olive oil
1/4 cup Just Pomegranate Molasses
2 tbsp Just Date Syrup
1 tbsp sumac
2 tbsp sherry vinegar
From the top of the pomegranate, slice vertically into the fruit, cutting down a little less than halfway. Then cut horizontally, again cutting down the same depth. You should be able to pull apart the top of the pomegranate like a flower, revealing the little gems inside. Remove all the seeds from the pomegranate, separating from the white pith, and set aside.
Slice the persimmons into thin circles, so you reveal a star at the center of each. Your choice to either keep the persimmons in circular form, or cut them into half-moons.
Put walnuts in a skillet over medium high heat with dried red chili, and date syrup, stirring frequently until walnuts are coated with the mixture. Sprinkle lightly with large flake salt while still hot.
Bring quinoa to boil in 2 cups water, then simmer covered until soft and curly grain visible. Drain if necessary. Then in batches, add a thin layer of olive oil to a nonstick skillet over medium heat. Crisp quinoa in a single layer, watching the quinoa closely until golden brown and crisp. Cool quinoa on a paper towel. Complete in batches until all quinoa is crisped.
Chop frisee and escarole. Lightly season with salt and pepper, toss well.
Blend all the dressing ingredients in a powerful blender - a vitamix if you're able. Blend until the dressing is mostly smooth, but still with tiny chunks of date - this will take a while. I sometimes blend it for 8 minutes on medium speed. Make sure to take breaks so your blender doesn't burn out.
Toss all ingredients thoroughly, starting with half of the salad dressing. If the salad seems too lightly dressed, add a little more at a time - you want the salad to be lightly coated but not soggy. Toss the toasted quinoa with salad at the very end, after you've dressed the salad. Serve immediately. Serves 8-10 as a side salad.