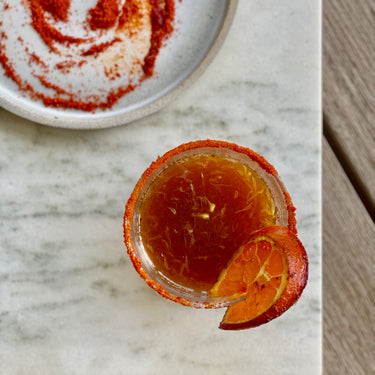 Pomegranate Spritz
A little tangy and a little sweet, with a vibrance from pomegranate and a hint of spice from the chili - this pomegranate molasses cocktail or mocktail is complex in flavor, but easy to make at home for happy hour. We use Topo Chico, our favorite sparkling water, and Burlap and Barrel sumac, along with fresh produce for a healthier cocktail.
Ingredients
1/4 tsp freshly grated ginger

3oz of Topo Chico sparkling water, or other carbonated water

Juice of 1/2 an orange

1.5 Tbsp Just Pomegranate Molasses

Chili powder or flakes or choice, sumac recommended

1.5oz liquor, optional, tequila blanco or gin recommended
Add grated ginger into 3oz of sparkling water in a cup and set aside for 5 minutes

Squeeze the juice of 1/2 a large orange into a cocktail glass

Add Just Date Pomegranate Molasses to the fresh orange juice

Combine ginger sparkling water with orange-pomegranate mixture, and add a pinch of chili flakes or spice

Finish with an optional 1.5oz of liquor. We recommend gin, tequila blanco, or vodka, where gin and tequila are our personal favorites. PS. This makes a fantastic mocktail, too!