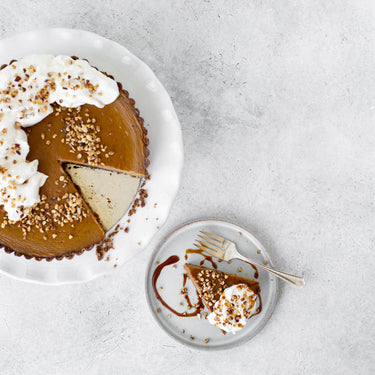 Bebe's Pumpkin Pie
The holidays are approaching, which means it's time to stock up on your Just Date Syrup!  You're going to use it all season long. Exhibit A? Thanksgiving.  We've been trained to think that Thanksgiving Day automatically means indulgence, butter, excess calories, and all the sugary treats. We're here to tell you that you can have your (pie) and eat it too. We are equally excited about the indulgences of the holidays, but want to indulge in a way that doesn't wreak havoc on our sugar levels. Like all the desserts we've been posting this season, we promise that this pumpkin pie is even better than the original - naturally sweet coconut cream melds with rich caramel Just Date Syrup to create the creamy pumpkin filling of your turkey-day dreams. Click here to purchase your 3 pack of date syrup!

Note: This is a make-ahead recipe. It's best served when it sets in the fridge overnight.
Ingredients
15 oz Can of Pumpkin Puree
11 oz Coconut Cream
1/4 C JUST DATE SYRUP
2 Eggs
1 teaspoon Vanilla Bean Paste
1 teaspoon Cinnamon
1/2 teaspoon Ground Ginger
1/4 teaspoon Nutmeg
1/4 teaspoon Ground Clove
Pinch Salt
1 cup heavy cream (for whipped cream)
2 tsp Just Date Syrup (for whipped cream)
Preheat oven to 350. Parbake crust of choice for 10-12 minutes. (we use one of two options - an easy flaky pie dough or a gluten-free hazelnut crust). Allow crust to cool.
Whisk together Pumpkin, Coconut Cream, Eggs until thoroughly combined.
Add vanilla, spices, and a pinch of salt.
Pour into parbaked crust and bake 40- 50 minutes until set, and cake tester comes out clean.
This is a make-ahead recipe. It's best served when it sets in the fridge overnight.