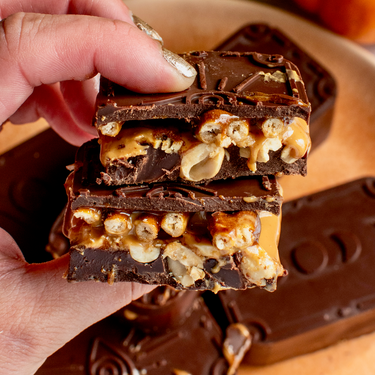 Reeses Take 5 Dupes
Our local friend Dana at @baydish whipped up these cute tarot Take 5 dupes! "One of my absolute favorite candies is Reeses Take 5s, the sweet & salty magical chocolate bars that combine chocolate, caramel, peanut butter, peanuts, and pretzels. I'm SO excited to share this halloween-themed dupe made with Just Date's brand new organic chocolate chips that are even better than the original."
Ingredients
2 bags Just Date Chocolate Chips
½ cup Just Date Syrup
¼ cup Just Date Sugar
1 cup pretzels
½ cup cup dry roasted peanuts
¾ cup salted runny peanut butter (mix in ½ tsp salt in if unsalted)
Tools needed: Tarot Card chocolate mold, or any other chocolate mold. Place your mold on a baking sheet. This will make it easier to transport later.
Melt one bag of the Just Date chocolate chips in the microwave, going 30 seconds at a time and mixing until fully melted. Layer the base and sides of the mold with the melted chocolate and refrigerate for 20 minutes.
While refrigerating, make the date "caramel" by mixing the date syrup with the date sugar until well combined and no lumps remain.
Remove the mold from the fridge and add layers of the caramel, pretzels, peanut butter, and peanuts. Melt the remaining bag of chocolate and finish with a layer of chocolate. Refrigerate for at least one hour and enjoy!