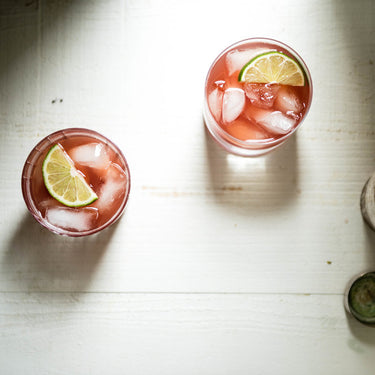 Rhubarb + Date Syrup Margarita
Tart rhubarb is the perfect accompaniment to a classic lime margarita. Not only does it make your marg a deep pink, it adds some spring flare.
This recipe is lightly sweetened with date syrup, which takes the tart edge off the rhubarb and adds a little burnt caramel flavor. Extra rhubarb-date syrup can be used in a number of drinks (alcoholic or virgin), or anywhere you would use a simple syrup. So, maybe make a bigger batch and whip up a spritzer for later.
Ingredients
For rhubarb-date syrup




1 cup chopped rhubarb




4 tablespoons date syrup

2 cups water

4 ounces high quality blanco tequila




2 ounces Cointreau




1 ounce fresh juice




2 lime wheels, for garnish
First, make the rhubarb date syrup. In a small saucepan over medium heat, add the rhubarb, date syrup and water. Bring to a boil, stir, then reduce to a simmer. Cook, uncovered, until the rhubarb falls apart and the liquid is reduced to ¼ cup, 20 to 25 minutes.

Strain liquid syrup from the solids and discard the remaining rhubarb. Set aside the syrup to cool or transfer to the refrigerator to chill.

In cocktail shaker, combine tequila, Cointreau, lime juice and 2 ounces of the date-rhubarb syrup. Fill with ice and shake until thoroughly chilled, about 15 seconds (the bottom of a metal shaker should frost over).

Fill glasses with fresh ice and strain margarita into both glasses. Garnish with lime wheels and serve.