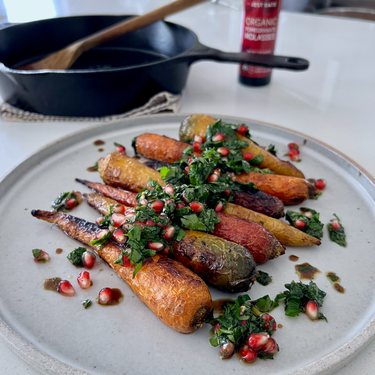 Roasted Carrots with Pomegranate Relish
We love a satisfying root vegetable dish during the cold months of the year. For the ever-present carrot, we love to dress her up with this savory, crunchy and jewel-encrusted relish that really leans into some of our favorite seasonal produce - pomegranates, herbs and oranges. The caramelized carrots pair beautifully with the herbs, syrup and orange juice and the pomegranates look like little sparkly rubies sprinkled throughout. This is a simple side dish to whip up while other things are baking and stewing and you'll be proud of how beautiful and festive it looks on a serving platter.
Ingredients
A bunch of tri-colored carrots
One medium-large pomegranate
Juice of one orange
1/4-1/3 cup chopped parsley
1/4-1/3 cup chopped mint
1-2 tbsps olive oil
1 1/2 tbsp Just Date Pomegranate Syrup
1/2 tsp salt
Wet a cast iron skillet (or a skillet that can go in the oven) with olive oil. When the oil is hot, place unpeeled carrots into the pan and allow the skins to caramelize. Be careful to roll the carrots just before they blacken on each side.
Once all sides are toasty looking, place the pan in an oven at 350 until the carrots are soft.
While the carrots roast, make the relish.
Prepare the pomegranate by slicing the top open in a star pattern and pulling the fruit apart along its natural meridians. Place the fruit into a bowl full of cool water and massage the seeds out of the walls of the fruit. With your hands or a slotted spoon separate the red seeds from the whites and exterior wall and remove them from the water. You don't want the seeds to soak.
Chop the fresh mint and parsley and place in a bowl. Drizzle with enough olive oil to wet the herbs and stir. Squeeze one entire orange into the herbs. Pour the pomegranate syrup into the herb mixture and stir. Add salt. Add pomegranate seeds, adjust any ingredients to taste, and set aside.
Remove the carrots from the oven when soft. Place the carrots on a platter and scatter plenty of relish over them. You want to think about having a little bit of relish in each bite of carrot. This recipe will provide enough relish for about 10-12 medium carrots.