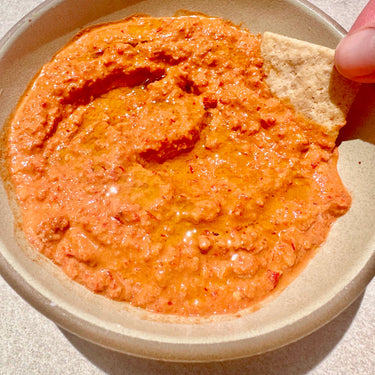 Shane's Savory Muhammara Spread
If you haven't tried Muhammara yet, you need to put it on your do-to list. Our foodie friend, Shane of @sfeatsinsf, has been developing this adaptation of this delicious middle eastern spread for years. It's tangy, a tiny bit sweet, a little spicy and umami in all the right ways. In her version, she uses walnuts, gluten-free bread crumbs and our Just Date Pomegranate Syrup. We love it as a dip, topping for meat or veggies or as a spread on sandwiches such as this Roasted Eggplant Sandwich with Lemony Herbs. We think you'll love this new take on an old classic.
Ingredients
3 large red peppers charred (or one 16 oz jar of fire roasted peppers, drained, rinsed and patted dry)
2/3 cup toasted walnuts
1/2 cup fresh gluten-free bread crumbs
4 tbsp Just Date Pomegranate Syrup
1 tbsp freshly squeezed lime or lemon
1 fresh garlic clove
1 tsp ground cumin
1 tsp kosher salt
1/2 tsp aleppo pepper or to taste
1/2 cup olive oil
For the gluten-free bread crumbs we suggest you make your own rather than buying them:
Toast your favorite gluten-free bread in a low oven until it's dried out but not burnt or super hard. Put it in a food processor and grind until in a coarse crumb. Set aside.
For the walnuts:
Toast in a preheated oven of 350 until fragrant, about 5-6 minutes.
For the red peppers:
In an oven at 400, place well oiled whole red peppers on a cookie sheet and bake until the skin is charred and the flesh is soft about 30-40 minutes. Turn them occasionally during the baking. Remove them when done and place them into a large bowl and cover with foil or plastic wrap until completely cooled. Remove the wrap and pull the loose skin off the peppers and discard. Next, cut the peppers in large chunks and remove the seeds and stem. Set aside.
In the bowl of a food processor, combine the bell peppers, walnuts, bread crumbs, pomegranate syrup, lemon juice, garlic, cumin, salt and pepper and process until almost smooth. With the motor running, drizzle in 1/4 cup of the olive oil until mixed. Turn the food processor off and season to taste. Spread dip on a plate and garnish with remaining oil and a drizzle of pomegranate syrup and flaky sea salt.