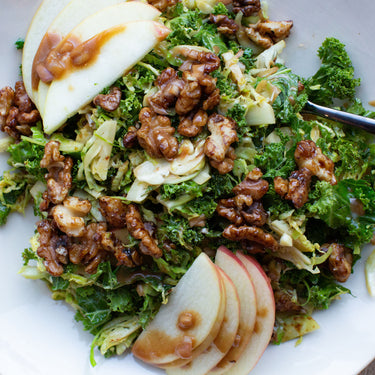 Shaved Brussels Salad with Date-Mustard Vinaigrette and Candied Date Syrup Walnuts
Look no further for the perfect fall salad! Our Shaved Brussels Salad with Date Vinaigrette & Candied Date Syrup Walnuts celebrates in-season produce like apples, brussels, and curly kale and is paired with our go-to vinaigrette for hearty fall salads. Apple cider vinegar softens minced shallots, and then is whisked with olive oil, mustard, and @justdatesyrup. The texture from shaved brussels and finely chopped curly kale is amazing paired with the tangy dressing, while apples and candied walnuts provide bright pops of sweetness throughout. It's the perfect accompaniment for just about anything this fall, and is beautiful enough to sit alongside mains on your holiday tables this season.
Ingredients
1 lb brussels, thinly sliced/shaved
1 bunch curly kale, finely chopped and massaged
3 honeycrisp apples, finely sliced into half moons
½ lb walnuts
¼ cup date syrup
Optional 1 tsp of Aleppo pepper
1 large shallot
2 tbsp ACV
1 tbsp Dijon mustard
1-2 tbsp date syrup
Pinch kosher salt
¼ cup olive oil
Toast walnuts in a dry pan, and add date syrup once lightly browned. Stir frequently over low-medium heat without letting the syrup burn. Remove from heat immediately once toasted walnuts are coated in syrup. Add Aleppo pepper if using.
Finely mince shallots and let sit with ACV in a bowl for 10 minutes, completely submerged. Whisk in Dijon mustard, salt, and 1 tbsp date syrup. Whisk in olive oil until emulsified, use more olive oil if necessary. Add another tbsp date syrup if you desire more sweetness.
Toss dressing with kale, brussels, and equivalent of about 2 apples. Toss walnuts last, right before serving. Lay fans of remaining apples on top of the salad, lightly drizzled with additional dressing.