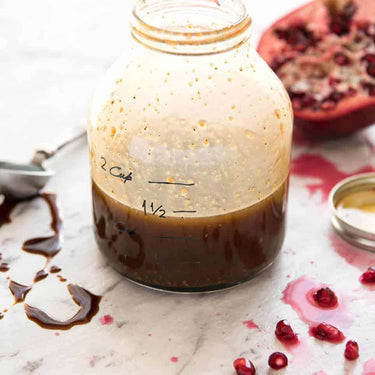 Simple Pomegranate Molasses Vinaigrette
A beautiful pomegranate Middle Eastern dressing, this vegan and paleo salad dressing tastes like a more exotic version of Balsamic Vinaigrette! it's tangy and sweet with a hint of pomegranate fruitiness. It
 goes especially beautifully with kale salads and roasted vegetables, and is an elevated version of your favorite vinaigrette. 
Ingredients
3 tbsp Just Pomegranate Molasses
2 tbsp red wine vinegar
1 tbsp Dijon mustard
1 tbsp Just Date Syrup
2/3 cup olive oil
1/2 tsp salt + pepper
Place all ingredients in a jar and shake well. Adjust salt and pepper to taste. Done!