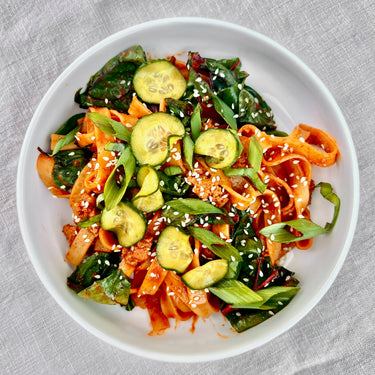 Spicy Beef Noodles in Gochujang Tahini Sauce
This is my comfort food. Thick chewy noodles in a perfectly creamy spicy sweet sauce with the crisp crunch of quick pickled cucumbers and herbal bouquet of basil. It's satisfying. It's simple and easy to make. It's what you want on a Sunday evening to ward off any fears of crashing back into the weekly routine on Monday morning. It makes excellent leftovers for lunch the next day - if you're luck enough to have any!
Ingredients
2 scallions, chopped whites separated
1 thumb of ginger, chopped fine
2 large garlic cloves chopped fine
1 tbsp rice vinegar
½ lb ground meat like beef, turkey, bison or meatless crumbles
Sesame oil
Chopped fresh greens like chard or spinach
Your favorite thick Shanghai noodles*
Sauce
¼ cup gochujang or fermented Korean ​​red chili paste
3 tbsp coconut aminos
1 tbsp Momofuku Goods tamari
2 tbsp Just Date Syrup
2 tbsp Seed & Mill Tahini
2 tsp sesame oil
Garnishes
Sesame seeds
Fresh julienned basil leaves
Chopped scallion greens
Quick pickled cucumbers
Fill a pot with plenty of water and begin to boil for noodles. Make the quick pickled cucumbers. Set aside. In a bowl, add all ingredients for sauce and whisk together. Set aside.
Heat sesame oil in a skillet and add meat/meatless crumbles and begin to brown. Add scallion whites, garlic and ginger and brown thoroughly. In the last moments of browning, add some drizzle of the noodle sauce that you made and the rice vinegar. Stir to incorporate and turn heat off.
Throw the noodles in the water and cook according to package instructions. Once drained, mix with the cooked crumbles and remaining sauce. Mix in the fresh chopped greens and let wilt over medium heat for 1-2 minutes. Serve immediately with your favorite garnishes - suggestions above!
*sauce is enough for 4 servings. Fresh GF fettuccine is a great option for this!