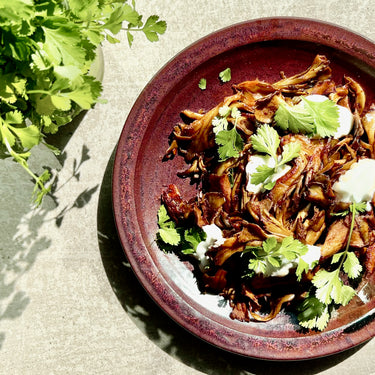 Spicy Harissa Maitake Mushrooms
These spicy mushrooms are one of my favorite fresh-from-the-farmers-market side dishes to make. I pan sear the mushrooms in a large cast iron skillet until they are a beautiful deep golden brown and then coat them with a sweet and spicy sauce. They come together so easily and seem to pair well with almost everything I make at home that I find myself making these nearly once a week! Maitake mushrooms are so good at reducing cholesterol and supporting your heart health that they make them into supplements. But I'd rather eat them like this with dollops of cool yogurt and fresh cilantro!
Ingredients
1/4 cup harissa (or your favorite hot sauce like sriracha or gochujang)
3 tbsp Just Date Syrup
16 oz maitake mushrooms (chanterelles work well, too)
Start by cleaning the mushrooms and separating the clumps gently so they are in bite-sized pieces.
Then heat a large cast iron skillet over medium-low heat and drizzle some olive oil in the bottom and swirl it around. Spread the mushrooms in the pan so that as much of the mushroom surface is touching the hot pan. You can gently press the mushrooms into the pan so they flatten a bit. Allow the mushrooms to sear without disturbing them, occasionally looking under one to watch for that deep golden brown color. Be patient with this part to get as much umami from them as possible.
When the bottoms are a beautiful color, add the harissa in dollops and stir the mushrooms until well coated. Continue to flip them and sear them so they become deeply colored but not burnt! When they seem to be as brown as they can get add the date syrup and coat them evenly. Remove from heat and season to taste. Garnish with yogurt and cilantro and indulge!