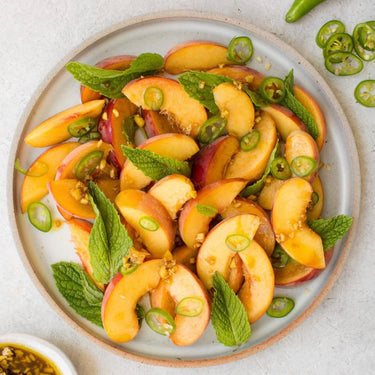 Spicy Peach + Mint Salad
This spicy peach and mint salad is the easy dish you need to be making all Summer long. Another no-cook recipe that's perfect for those warm days you can't be bothered to turn on the oven!  A zingy fresh ginger dressing with *BOTH* Just Date & Just Pomegranate Syrups is drizzled over a ripe yellow peach salad with mint and thinly sliced jalapeno. Just the salad you need for those last BBQs of the Summer.  Just slice, toss, and enjoy with a glass of chilled wine - you deserve it. 
Ingredients
2 large ripe peaches
handful fresh mint, chopped
1 thinly sliced serrano or jalapeno chile
2 tablespoons finely minced ginger
1 tablespoon Just Pomegranate Syrup
2 teaspoons Just Date Syrup
2 tablespoons olive oil
Finley chop ginger and let sit in Just Pomegranate Syrup.
Slice peaches and fresh chiles and arrange on a plate.
Whisk Just Date Syrup and olive oil into the ginger dressing, drizzle onto salad.
Toss, and top with freshly chopped mint.