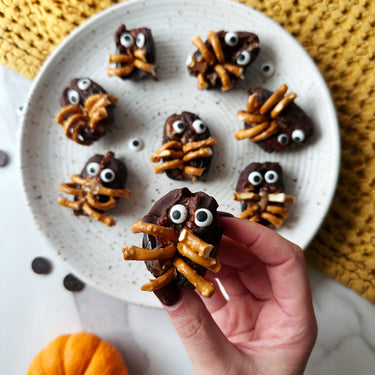 Stuffed Date "Spiders"
Sophia at @wholesomelysophia whipped up these adorable and super easy spider snacks for Halloween. "A creepy, crawly treat perfect for halloween & uses Just Date's NEW Chocolate Chips! Grab the full scoop down below!"
Ingredients
12 medjool dates, pitted
3/4 cup nut butter
1 cup Just Date Dark Chocolate Chips
roughly 10 pretzel twists, broken into pieces
candy eyeballs
Split dates apart so that they are wide open. Spread roughly 1/2 tbs of nut butter inside of each date.
Meanwhile, melt chocolate chips in microwave for 30 second increments or until melted completely & smooth. *TIP! melt with 1 tbs of coconut oil to allow for smoother consistency.
Dunk each stuffed date into melted chocolate halfway, then place two candy eyeballs on each date over top of chocolate.
Place dates into freezer for ~10 minutes to allow chocolate to harden.
Remove from freezer & place 6 broken pretzel pieces onto sides of each date (3 on each side). *TIP! place pretzels into portion of date with no chocolate, this will make it easier for pretzels to stay in place.
& ENJOY at your next spoooooky get together 👻 Best kept stored in fridge!