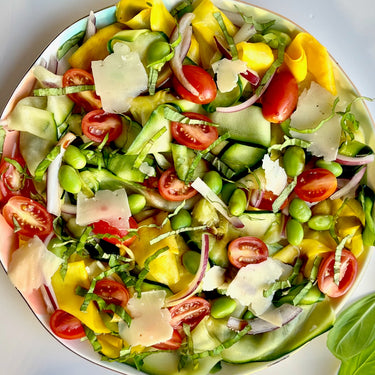 Summer Squash Salad with Edamame
Devanshi from @thisisdeeskitchen is leaning into the most tender late summer veggies - summer squash. Those of you who have a garden know when it's squash season, it's squash season! "Summer is all about light and refreshing dishes, and this summer squash salad hits the spot. Mixed with grape tomatoes, red onions, edamame, and a lemon vinaigrette sweetened with Just Date Organic Date Syrup, it's the perfect addition to your summer menu!"
Ingredients
2 summer squash, green and yellow
8 oz grape tomatoes, cut in half
¼ red onion, julienned
¼ cup of cooked and shelled edamame
Kosher salt
Dressing
¼ cup extra virgin olive oil
2 tbsp lemon juice
1 tsp dijon mustard
1-2 tsp Just Date Syrup
Wash the summer squash, and cut the ends off. Use a peeler to slice into ribbons. Place the squash ribbons in a bowl and sprinkle a pinch of kosher salt. Let it sit for at least 10 mins so the salt can draw out some moisture. Then, remove and discard the excess liquid.
Prepare the tomatoes, red onion, and edamame. Make the dressing by vigorously mixing extra virgin olive oil, lemon juice, mustard, and Just Date Syrup.
Mix the squash, veggies, and dressing. Mixing these with hands lightly is best, so ensure your hands are washed and clean.
Transfer the salad to a serving plate and garnish with fresh basil and parmesan shaves. Drizzle a bit more Just Date Syrup to taste. Enjoy!