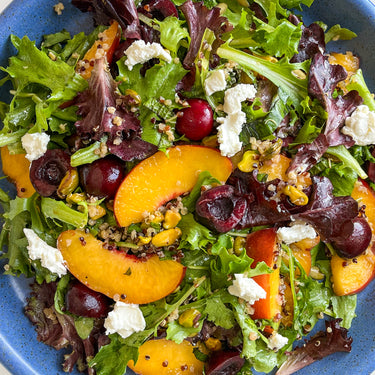 Summer Stone Fruit Salad with Goat Cheese
Madison from @nutritionbymad is celebrating summer with this healthy salad made of stone-fruit, nuts and seeds. "Summer to me means enjoying all the in-season fruits!! Adding my favorite date syrup to this satisfying summer salad, not only for flavor but for the nutrient-dense sweetness. I love that Just Date Organic Syrup is made from just organic dates — making this natural sweetener that is refined sugar free, loaded with potassium, magnesium, and antioxidants"
Pro Tip: If you're making this deep in the heat of the summer, cook the quinoa the evening before and store in the fridge until it's time to throw it together. You will avoid cooking during the hottest part of the day and the quinoa is nice and cool when you make the salad.
Ingredients
4-6 cups mixed lettuce like spring mix & arugula
1 cup quinoa, cooked & cooled
1-2 nectarines, washed & sliced
1/2 pitted and halved cherries
1/4 cup pumpkin seeds
1/4 cup chopped pistachios
1/4 cup goat cheese, crumbled
freshly chopped mint and thyme, to taste
Date Dressing
4 tbsp olive oil
2 tbsp apple cider vinegar
2 tbsp Just Date Syrup
1 tbsp mustard
1-2 cloves garlic, freshly minced or shredded
1/2 tsp salt
cracked black pepper, to taste
Add dressing ingredients to a small bowl and whisk until well combined. Set aside.
Add all salad ingredients to a bowl. Pour as much dressing as desired into the salad. Gently mix until well-combined,. Plate & enjoy! I enjoyed the whole thing with others in one sitting!