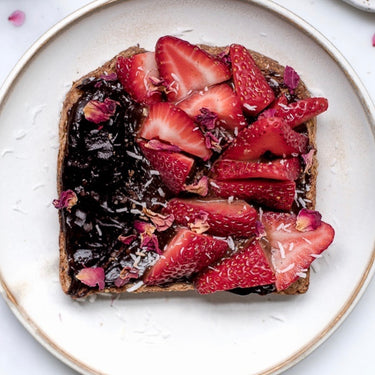 Sunflower Seed Nutella + Date Syrup Toasts
Toast with homemade nutella, date, and freshly sliced strawberries is our perfect breakfast at Just Date Syrup HQ.  Shahla of My Berkeley Kitchen recently shared this recipe, and we love how simple and delicious it is! As a riff on nutella, this recipe combines sunflower seed butter and cacao powder, which pairs perfectly with a generous drizzle of date syrup and fresh berries on toast.
Ingredients
2 tablespoon sunflower seed butter




4 teaspoon raw cacao powder or cocoa powder




1 tablespoon Just Date Syrup




1 teaspoon vanilla




2 teaspoon water




pinch of salt
With a wire whisk or spoon, mix everything together in a small bowl until all ingredients are fully incorporated.

The mixture should spread like frosting. Enjoy!