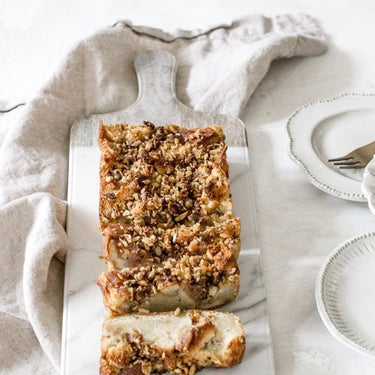 Ingredients
8 Slices of Bread




1 Tube Almond Paste




1 Egg




1/3 Cup Almond Milk




1/3 Cup Jam of your Choice (I picked apple butter)




1/3 Cup Crunchy Topping




Loaf Pan lined and oiled




Vanilla Ice Cream




Date Syrup
Pre-Heat oven to 350 degrees and line and oil your loaf tin.

First, make the Almond Topping. In a stand mixer or with a hand held mixer break down the almond paste by beating it on medium until it's a nice smooth consistency. Add in the egg and milk and mix until fully incorporated. Set Aside.

Next, make the loaf. Rip the bread into little shreds and place in the loaf tin. Pour over the almond past mixture and make sure the bread is fully coated. Then spoon in the jam around the top and swirl. Top with your crunchy topping.

Bake for 25-30 minutes until its nice and golden brown. Slice and serve with ice cream with a drizzle of date syrup on top.