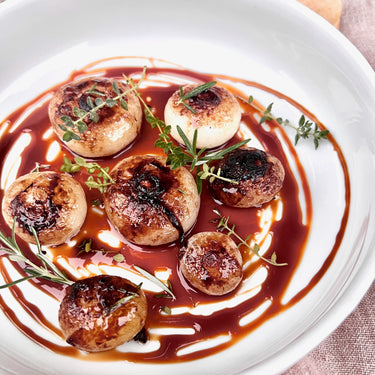 Sweet and Tangy Cipollini Onions (Cipollini Agrodolce)
Whether served as a side dish or used as a topping for pizza, flatbread or pasta, these sweet and savory cipollini onions offer a delectable treat. Their inherent sweetness and tenderness make them perfect for caramelization in a luscious combination of butter, Just Date Syrup, and tangy-sweet Pomegranate Syrup with a kick of balsamic vinegar. Essentially, this recipe presents a pan-roasted variation of cipollini agrodolce—a delightful blend of sweet and sour flavors, reminiscent of traditional Italian cuisine.
Ingredients
1 1/2 pounds cipollini onions
2 tablespoons butter
1 tablespoon olive oil
1 tbsp Just Date Syrup
1/2 teaspoon kosher salt
2 tbsp water
2 tbsp Just Pomegranate Syrup
2 tbsp Balsamic Vinegar
1 teaspoon chopped fresh thyme or rosemary leaves
Start by bringing a saucepan of water to a boil. Add the onions to the boiling water After 2 minutes, drain the onions and allow them to cool slightly. Use a small, sharp knife to remove the top of the onions and peel off the skins. Remove any roots, but keep the stem end intact to prevent the onions from separating.
In a nonstick skillet, heat the butter and oil over medium-high heat. Wait for the butter to stop foaming and start emitting a nutty aroma.
Add the onions to the skillet and cook for about 5 minutes, or until they brown, stirring occasionally. Sprinkle the onions with Just Date Syrup and salt. Then, pour water, pomegranate syrup and vinegar over them. Be cautious as the pan might sputter.
Reduce the heat to medium-low, cover the pan, and cook for another few minutes, checking for burning. Uncover the pan and continue cooking until the liquid in the pan thickens and forms large bubbles, which should take approximately 2-3 minutes. Finally, sprinkle the onions with thyme and serve.