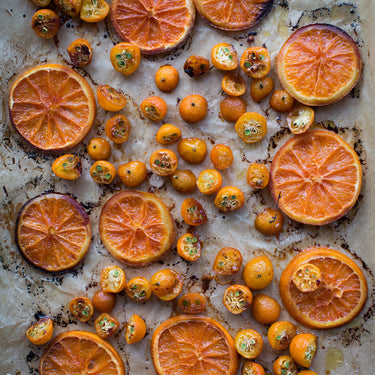 Sweet Roasted Kumquats
Ever find yourself looking at those cute little kumquats at the farmers' market, and wonder what to do with them? Look no further! Kumquats are one of our favorite fruits - we love the sweet, sour, and a hint of bitter all wrapped into one. But most don't enjoy kumquats raw. Once slightly manipulated through cooking or roasting, kumquats - rind and all - become one of the most enjoyable delicacies imaginable! Toss with salads, top a protein, or simply snack on em. Next, we'll put them on ricotta and toast! The simplest recipe ever below.
Ingredients
1 lb kumquats, cut in half




2 and ½ teaspoons olive oil




1 and ½ teaspoons Just Date Syrup
Drizzle kumquats with Drizzle with olive oil and date syrup and lay onto parchment. You can also add cara cara or blood oranges to the mix - here you see two cara cara oranges sliced thin. Sprinkle everything delicately with sea salt.

Roast at 400 degrees for 25-35 minutes, until kumquats are slightly charred and caramelized. They will have a sweet and slightly sour taste, and an addictive, chewy texture.