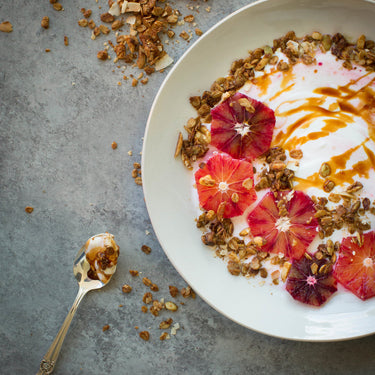 Tahini Date Syrup Granola
During our last JDS photoshoot, my dear friend and photographer Bella asked me to whip up a vegan granola with Just Date Syrup for the shoot. My friends, it turned out far beyond my expectations, and has now been on repeat in our household since our shoot over a month ago. I'm in love. Tahini is whisked with olive oil and JDS, and then mixed with cardamom, cinnamon, oats, and a variety of nuts. I always take a tip from my friend Michelle, CEO of Nana Joe's Granola, and bake at a lower temperature for perfect granola. The recipe below is an approximation of the original, where I literally threw everything together in a bowl and laid it on a sheet pan, but it is my best guess! Give it a shot - you won't regret it!
Ingredients
2 cups rolled oats




1/4 cup chopped walnuts




1/4 cup chopped almonds




1/2 cup pumpkin seeds




1/4 cup chopped pecans




1/2 cup unsweetened coconut flakes




1 tbsp cinnamon




1/2 tbsp cardamom




1 1/2 tsp kosher salt




1/4 cup tahini




1/4 cup olive oil




1/2 cup Just Date Syrup
Combine dry ingredients (rolled oats through salt). Whisk together tahini, olive oil, and Just Date Syrup, and mix well with dry ingredients.

Lay on parchment paper in a single layer on a baking sheet. May have to do in batches. Bake at 350 for 15 minutes. Check on granola and toss once. Bake for another 5-7 minutes, but watch closely. Let it darken but not burn.

Enjoy with a scoop of almond butter, drizzle of just date syrup, and seasonal fruit!