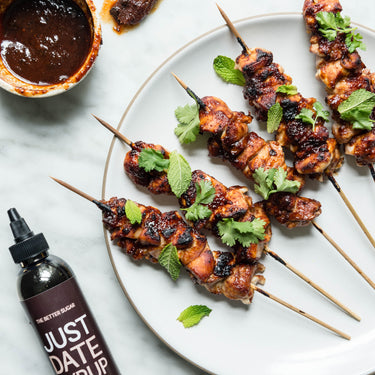 The Best Low-Sugar BBQ Sauce
Traditional BBQ sauces, while delicious, are typically crammed with sugar and other ingredients that aren't necessarily necessary. Naturally, ours uses dates to add a sweetness that tames the spice.
Date syrup is perfect for BBQ sauce, as it compliments the smokey, dark caramel flavors from the soy and cider. It's a perfect marinade, dipping sauce or BBQ primer to throw on any number of veggies or meats.
Here, we coated some skewered chicken thighs in a thin layer of sauce and threw them in the oven under the broiler for a little under 10 minutes. When they came out, we added a touch more sauce, as well as some fresh mint and cilantro to brighten it up.
The whole recipe is refined sugar-free, paleo, and Whole30-approved.
Ingredients
¼ cup Just Date Syrup


¼ cup apple cider vinegar




1 tablespoons fresh lime juice




2 teaspoons soy sauce




1 tablespoon tomato paste




1 teaspoon spicy brown mustard




1 teaspoon onion powder




1 teaspoon garlic powder




¼ teaspoon freshly ground black pepper




½ teaspoon kosher salt




1 chipotle in adobo, plus 1 teaspoon sauce




2 tablespoons warm water
In a medium bowl, whisk together all the ingredients until combined.




In a small saucepan over low heat, add the bbq sauce mixture. Bring to a simmer, stirring occasionally, and cook until slightly reduced and thickened, 5 to 7 minutes. Remove from heat and let cool.