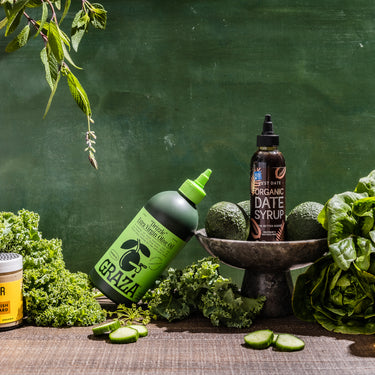 The Dressing (Summer's Version)
Like your best swim trunks, cold seltzer, and SPF 70, a forsake-all-others dressing recipe for the summer months is nothing short of essential. But honestly, you have quite enough to think about right now. So we got you. 
We started with our Just Date Syrup, rallied our comrades at Brightland, Graza, and Wilder and made some vinaigrette magic. Together, we hereby present The Dressing (Summer's Version): round, punchy, acid-forward, and dialed for all your beautiful greens and ripe fruit and smashed cucumber and mayo-less or mayo-full potato salad and and and. Make it, use it, begin again. 
The Dressing (Summer's Version) kit contains: Just Date Organic Date Syrup (8.8 oz), Brightland Parasol Vinegar (200mL), Graza "Drizzle" (500mL), and Wilder Condiments Dijonish Mustard (6 oz). Recipe makes approximately ½ cup of dressing.
In a small bowl, whisk together shallot, garlic, mustard, date syrup, vinegar, salt, and pepper until fully incorporated. Drizzle the olive oil in slowly, whisking all along, until smooth.