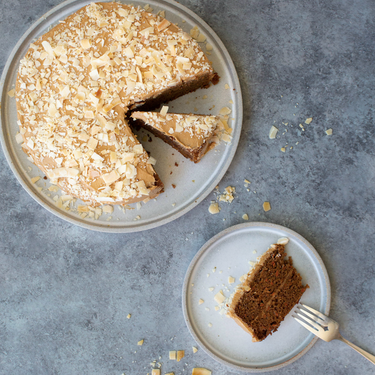 Carrot Cake with Cream Cheese Frosting + Toasted Coconut
What better way is there to eat carrots than in a cake? Probably none. Okay, with the exception of tossing with Just Date Syrup and roasted with our favorite spices, none - but we digress.  
Everyone needs a go-to carrot cake recipe in their back pocket, and we've got the perfect recipe for you!  Whether you're looking for an Easter dessert or you're just in the mood to bake something delicious - make this recipe. It's sweetened with Just Date Syrup, which lends a perfectly rich caramel note to this updated classic in place of refined sugar. We top this cake with a cream cheese frosting and toasted coconut flakes to pull it all together, and it always gone within minutes of serving it to a crowd.  Sometimes we make the cake just as an excuse to eat the cream cheese frosting. It's just that good - consider yourself warned! 
Ingredients
Ingredients:
Carrot Cake:
2 cups all purpose flour, sifted
2.5 tsp baking powder
1.5 tsp baking soda
2 tsp cinnamon
1 tsp ginger
1/4 tsp allspice
1/2 tsp kosher salt
3 eggs
3/4 cup oil - we use organic grapeseed oil - avocado oil or coconut oil work as well
1 tsp vanilla extract
2 cups date syrup
1/2 cup unsweetened applesauce
3 cups peeled and grated carrots
Cream Cheese Frosting:
8oz organic cream cheese, softened
1/2 cup unsalted butter, softened
1 cup date syrup
Preheat oven to 350* F.
Spray two 9 inch round cake pans with nonstick cooking spray, or line with parchment paper. Set aside.
In a large mixing bowl, whisk together the flour, baking powder, baking soda, cinnamon, ginger, allspice, and salt, until evenly combined.
In a separate mixing bowl, mix together the eggs, oil, vanilla, Just Date Syrup, and unsweetened apple sauce.
Add the grated carrots into the wet ingredients and gently fold to combine. Add the flour mixture to the wet mixture, and mix to evenly incorporate.
Pour the cake batter evenly between the cake pans. Bake 30-35 minutes or until a toothpick inserted into the center of each one comes out clean. Remove from the oven, and allow the cakes to cool for about 25 minutes while still in the cake pans. Remove from the pans and let finish cooling on a wire rack.
While the cakes are baking, prepare the cream cheese frosting.
In the bowl of a stand mixer fitted with the paddle attachment, or in a large mixing bowl using a hand-held mixer, beat the cream cheese until smooth. Add the butter and mix for a 1 minute or so until smooth. Add the date syrup and continue mixing until fully combined. You'll need to stop the mixer to scrape down the sides with a spatula at some points.
To assemble, place one of the cakes on a serving dish or cake stand and top with a little over 1/2 cup of the frosting. Use an offset spatula (or the back of a spoon or a regular spatula) to spread the frosting around. Place the second cake on top, and use the remaining frosting to frost the top and the sides. Top with toppings of your choice - we love toasted coconut flakes, toasted pecans, and a big 'ol drizzle of Just Date Syrup for good measure. Enjoy!