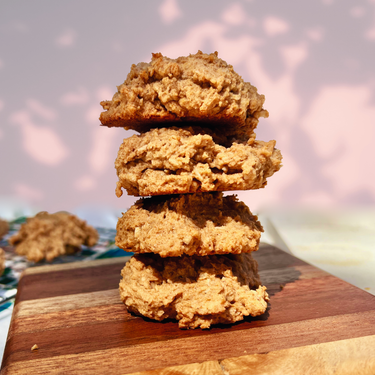 Vegan Apple Coconut Cookies
These vegan apple cookies are so satisfying and simple to make. They are appley and cinnamony, not too sweet, and have a nice little homestead prairie vibe.  The texture is halfway between chewy and cakey and are a treat you can feel good about. They stand up very well to packing and would be perfect for a picnic or cookie swap. We love them with a big cup of chai for an afternoon pick-me-up. We have also tried these with date-sweetened chocolate chips instead of coconut, and they do the trick! They will probably do well with just about any dry add-in you want to experiment with. A great base for a great all-around delicious cookie.
Ingredients
½ cup vegan butter like Miyokos (or regular butter) softened
1 cup Just Date Organic Date Sugar
1 cup applesauce
2 tsp vanilla
1 cup gluten free flour (like Bob's Red Mill 1:1)
1 tsp baking powder
½ tsp salt
1 tsp cinnamon (like Burlap and Barrel Royal Cinnamon)
1 cup shredded coconut
Preheat oven to 350. Whisk together flour, baking powder, cinnamon and salt in a small mixing bowl and set aside. Beat butter and sugar in a large mixing bowl until creamy. Be patient - the mixture will become lighter in color when ready. Beat in applesauce and vanilla - making sure to keep the mixture fluffy.
Add dry ingredients to wet ingredients and fold in gently until just combined so as not to disturb the fluffiness of the butter mixture. If you are using an electric mixer - you can switch to the paddle attachment and turn it on low briefly. Fold in the coconut gently.
Drop by spoonfuls onto lined or lightly greased cookie sheets. The shape and texture won't change much during baking, so you can gently sculpt them to your liking. Bake at 350°F for 22 minutes or till lightly golden brown around the edges. They will not change color much on the top.