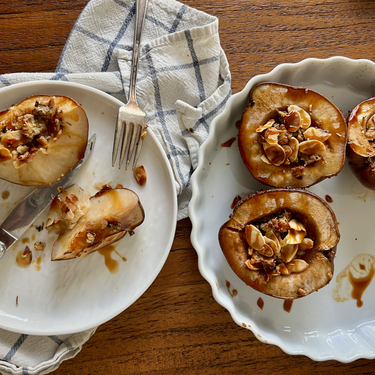 Vegan Baked Pears with Herbed Cheese
We love this recipe because it seems endlessly customizable and the presentation is as beautiful as the mouth experience. It has the sweet simplicity of the fruit, the salty aromatics from the herbed cheese, the delightful crunch of the almonds and a sweet umami from the date syrup which wraps everything up in a symphony of flavor. Don't have a pear? We used apple-pears for this run. Can't find the exact cheese? Use your favorite herbed cheese or a semi-soft cheese and add fresh herbs. (Although, this Miyokos cheese we used is divine so don't sleep on it.) We even think you could switch out the almonds with walnuts and have a lovely new flavor profile. Either way, the Just Date Syrup takes everything to new heights. Grab your ingredients and enjoy!
Ingredients
2 ripe pears
Miyokos Herbes De Provence vegan cheese wheel
Toasted sliced almonds
Just Date Syrup
Cut pears in half and with a spoon, scoop out the center of the pears leaving a good amount of flesh on all sides.
Sprinkle toasted almonds to cover the bottom of each scooped well inside the pear halves.
Crumble the Miyokos vegan cheese to fill the well generously on each pear half.
Set the pear halves into a small baking dish and bake for 15-20 minutes at 350 or until the edges become golden and the fruit is becoming soft. Remove from the oven and drizzle generously with Just Date Syrup. Plate and enjoy!