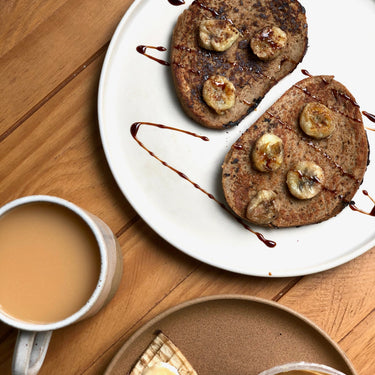 Vegan French Toast
French toast is wonderful. It's bread, made sweet and dense with a couple quick steps - add some tasty toppings and you have an incredibly satisfying brunch. Traditional French toast is made with eggs and whole milk, but we experimented and created a vegan version that hits all the right spots.
You can use any bread you love here, but we used AWG Bakery's cinnamon bread, which is grain free, gum free, and vegan. We replaced eggs with aquafaba, the protein packed water found in a can of chickpeas - sounds bizarre, we know, but it has a similar consistency to egg whites, and whips well. Many people use it as an egg replacement in baking or as a meringue, and here, it works in the otherwise eggy soak, along with almond milk and date syrup.
Ingredients
Aquafaba - liquid from 1 can of chickpeas
1/4 cup almond milk or any preferred non-dairy milk
1 tsp cinnamon
1/4 tsp vanilla extract
2 Tbsp Just Date Syrup, divided
6 slices of bread of choice
2 Tbsp coconut oil for cooking, divided
1 banana (optional topping)
Start by whipping up your aquafaba until it becomes white and fluffy - be careful not to over blend or it will break. We prefer to use an electric hand whisk to control beating the liquid in a medium sized bowl for about 60 seconds. If you prefer, you can use a regular hand whisk, or blend in a vitamin on high for ~45 seconds.
Add the fluffy aquafaba to a glass baking dish. Add in the almond milk, cinnamon, vanilla, and 1 Tbsp of date syrup (the other Tbsp is for topping). Stir to combine.
Meanwhile, heat a skillet to medium, add coconut oil, and place thick slices of banana down to caramelize. Sprinkle with cinnamon and flip after 2 minutes, then remove from heat and set aside to top your finished toast with.
Heat a medium or large skillet to medium high, and add coconut oil.
Place the bread slices into the aqufaba mix 1 by 1, coating each side fully, then place onto the hot pan. Cook each side for ~2-3 minutes or until golden and crispy. Repeat with all of the slices
Once finished, place the toast onto plates, and top with the caramelized banana and a drizzle of date syrup.