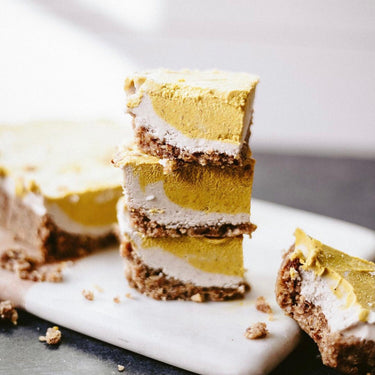 Ingredients
Ingredients
1.5 C raw cashews (soaked overnight in cool water or in very hot water for an hour)
1 tsp vanilla extract
1 med. lemon, juiced (this should be around 3 tbsp)
1/4 C. light coconut milk (from can)
1/4 C. melted coconut oil
1/3-1/2 C. @justdatesyrup (use less for a more tart cheesecake)
1/4 cup coconut yogurt (like So Delicious or Lavva)
1/4 tsp sea salt
1 1/2 - 2 tbsp golden milk powder *make your own, recipe noted below, or buy a blend from the tea section in any grocery store. Or, use a pared down combination of turmeric, cinnamon, cardamom and ginger to taste*
1 C. packed Medjool dates
1.5 C. raw walnuts (or sub raw almonds or preferred nut)
DIY Golden Milk Blend
This is a bulk batch of golden milk, and makes a LOT. If you aren't that committed I encourage you to look for store bought options or pair down the ingredients*.

1 1⁄2 cup / 200g ground turmeric
2/3 cup / 70g ground ginger
1/3 cup / 35g ground cinnamon
2 1⁄2 Tbsp. / 20g ground black pepper
2 Tbsp. / 20g ground cardamom
scant 3 Tbsp. / 20g ground cloves
2 1⁄2 Tbsp. / 20g ground nutmeg
1⁄4 cup 20g ground coriander

Combine all spices in a large bowl. Stir well, then transfer to a large jar or several smaller ones, and seal with an airtight lid. Keeps for up to 6 months.
1. Soak cashews. Drain well and set it aside.
2. Add dates to a food processor + blend until small bits remain + it forms into a ball. Remove, set aside.
3. Add nuts + salt, process into a bit of a meal. Add dates back in + blend until a loose dough forms (should be able to form a ball)
4. Line loaf pan with parchment paper. Add the crust mixture and press it down with your fingers to distribute. Stick it in the freezer to firm up while you put together filling.
5. Add all filling ingredients, except the golden milk mix, to a food processor or high-speed blender + blend until it's VERY creamy. If it has trouble blending, you can add in some more coconut milk.
6. Taste and adjust the flavor and sweetness as needed, adding more coconut yogurt, lemon, or date syrup. The great thing about vegan cheesecake and baking, is that there's no chance of food poisoning from uncooked eggs :).
7. Pour 2/3 of the filling into your crust, and tap the container on your counter a few times to release air bubbles. To the remaining filling, add the golden milk powder. Add it to the filling in a swirling motion, then swirl a few times more with a spoon.
8. Cover loosely with plastic wrap or bees wrap and freeze until it's set (around 3-4 hours). When it's set, it'll be firm to the touch.
9. Store it in the freezer, and set it out for a bit before you eat it to keep the best texture. It'll last in the freezer for around a month (hypothetically...it's never lasted that long for me). Enjoy ✨