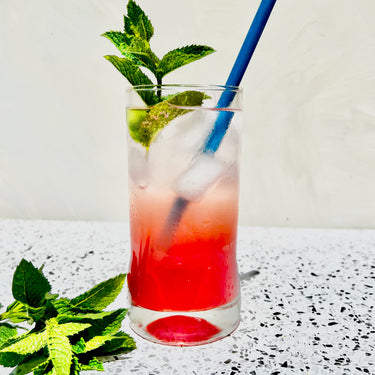 Watermelon & Mint Shrub
What would summer be without a delicious refreshing shrub? We don't want to know. This perfect balance of fruitiness, sweetness, and a kick of vinegar has been refreshing southern folk for generations during the meltiest months of the summer. This one has been reenvisioned to sub out the simple syrup with our low glycemic and nutrient-dense syrup so you can enjoy this beverage without the crash. Make a cocktail or a mocktail out of it and store it for up to 5 days in the fridge for a treat all week long! 
Ingredients
½ cup water
½ cup Just Pomegranate Syrup
2 cups coarsely chopped watermelon
½ cup apple cider vinegar
¼ cup mint leaves
1 tablespoon lime juice
Optional: 1 tsp finely shredded beets to pump up the color
Add in a small saucepan the water, Just Pomegranate Syrup and mint and bring to a boil. Reduce the heat and simmer until the mixture is syrupy again. Strain the mint out and cool.
Add watermelon and optional beets to a blender or food processor. Cover and blend until liquefied. Strain through a fine-mesh sieve into a bowl. Stir in your pomegranate mint syrup, vinegar, mint and lime juice. Transfer to an airtight container.
To make a cocktail, shake with ¼ cup of the shrub and a jigger (3 tbsp) of rum. Pour over ice and top with about ¼ cup of soda water and garnish with mint.
To make a mocktail, simply add equal parts shrub and soda water in a glass over ice. Garnish with mint and serve!
Store your shrub syrup in the refrigerator for up to 5 days. Stir before using.