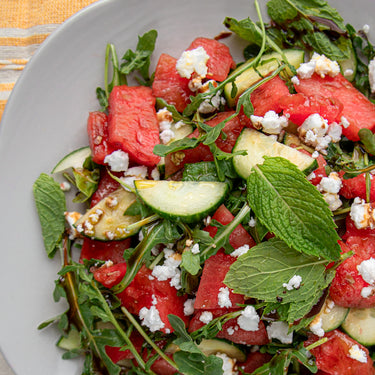 Watermelon Salad with Mint & Feta
This is a classic summer delight. The recipe was submitted to us by Gabrielle Young from @theveganmomma and we are obsessed with how well our pomegranate syrup does in replacing the balsamic vinegar you normally have on these salads. You must try this immediately!
Ingredients
1/2 medium watermelon with the rind removed, cut into cubes
1 English cucumber, sliced and halved
3 cups arugula
15 fresh mint leaves, chopped
1/2 cup crumbled vegan feta cheese (or preferred feta)
Just Date Organic Date Syrup & Just Date Organic Pomegranate Molasses
flaky sea salt to taste (especially if you're using vegan feta)
Optional: Graza "Drizzle" Extra Virgin Olive Oil
In a large bowl or serving platter combine the watermelon, cucumbers, arugula and fresh herbs. Top the watermelon salad with a generous drizzle of Date Syrup, Pomegranate Molasses and olive oil. Gently toss to combine. Top with the feta cheese and serve & enjoy!