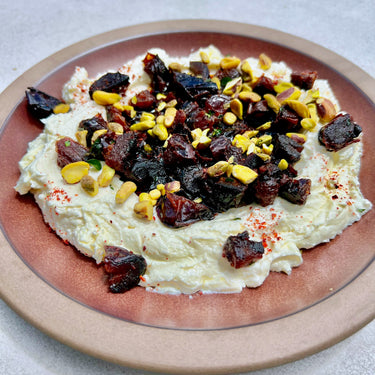 Whipped Feta and Dates with Pistachio
I saved this recipe for a special occasion, and when my friend invited me over for lunch recently, I knew it was the perfect time to give it a try. The best part is, this recipe is really simple and chances are you already have most of the ingredients on hand. It comes together quickly, making it a fantastic centerpiece for an appetizer spread. The feta's saltiness is wonderfully balanced by the richness of butter, oil, and Aleppo pepper, while the dates and date syrup add a touch of sweetness. We absolutely love the pistachios for that extra crunch and burst of color. Trust me, you won't want to miss out on trying this at your next gathering or for a relaxed cocktail hour at home.
Ingredients
7 oz organic cream cheese
3.5 oz feta cheese
2 tbsp olive oil
2 - 3 tbs. butter
6 Medjool dates, cut into cubes
2 tsp. chopped fresh thyme
1/3 cup Just Date Syrup
1/2 teaspoon Aleppo pepper
A handful of chopped pistachio for garnish
Add the cream cheese, feta cheese, and olive oil to a food processor. Pulse the mixture until it becomes smooth and creamy.
Melt butter in a shallow frying pan. Add the dates and sauté them until they become soft and the butter lightly browns. Turn off the heat and mix in 1 teaspoon of freshly chopped thyme.
In a small bowl, combine date syrup, fresh thyme, and a pinch of Aleppo pepper.
Spoon the whipped cheese onto a serving platter and create a well in the center. Then, generously top it with the warm dates and butter. Drizzle the thyme syrup over the dish. Serve alongside bread or crackers.