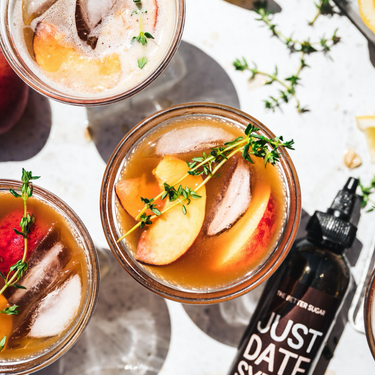 Whiskey Peach Lemonade
Just about as summery as a cocktail can get, this whiskey peach lemonade is a refreshing cocktail to DIY at home with ripe peaches, lemon, orange, and Just Date Syrup. It's a sugar free and naturally sweetened cocktail that's wonderful for a warm summer night. Created and photographed by Lexi and Beth @Crowded_Kitchen
Ingredients
1 1/2 oz whiskey
1/2 oz Cointreau
2 oz freshly squeezed lemon juice
1 oz Just Date Syrup
3 oz orange juice
Fresh peach slices
Lemon slices
A few sprigs of thyme
Fill a cocktail shaker half full with ice and add whiskey, Cointreau, lemon juice, Just Date Syrup, and orange juice.
Shake for a count of 15-20. Add ice to a glass with 2-3 thin lemon slices and pour cocktail over the ice.
Garnish with 2-3 sprigs of fresh thyme and some peach slices.