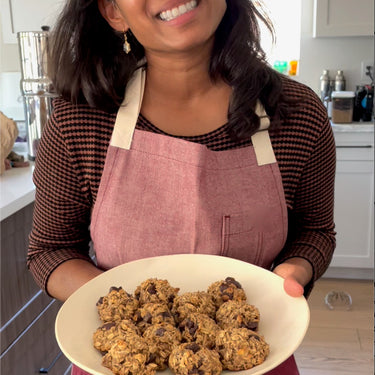 Back-To-School Cookies
Our Back-To-School Breakfast Cookies are just what your kids (and you) need this year! So many quick breakfasts that save you time in the morning cost your family in the long run, because they are absolutely packed with added sugar. 
These Breakfast Cookies have no added sugar, simple whole-food ingredients, and we have yet to meet a person who doesn't love them. The batter comes together in less than 10 minutes and is made from mashed up ripe bananas, rolled oats, almond butter, our whole date sugar, and whatever toppings you'd like. We used our whole date-sweetened chocolate bar collab with @raakachocolate, but you can use chopped up unsweetened chocolate, dates, apricots, and any nut you desire – we especially love pecans!
These Breakfast Cookies aren't just for kids – these wholesome cookies provide delicious energy for anyone, and we've been known to have 4 or 5 in one sitting!
Ingredients
2 ripe bananas, mash em up
Approx 1 ½ cups rolled oats
Approx ½ cup almond butter
2 tbsp Just Date Sugar
½-1 cup Raaka x Just Date dark chocolate or other toppings of choice
Whisk dry ingredients together. Mash up bananas and with your hands, combine with dry ingredients.
Bake 325-350F for 15-20 minutes or until you see crispy light brown edges.
Sylvie Charles, Just Date