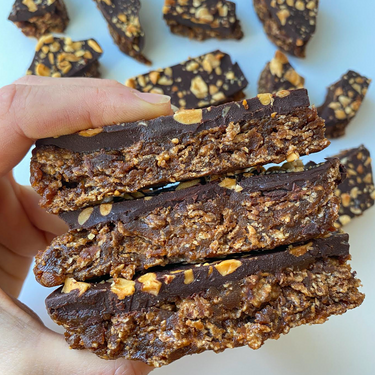 Best Vegan Pumpkin Butterfinger Bars
Learn how to make these easy vegan and refined sugar free pumpkin butterfinger bars with only a few ingredients. Peanut butter, chocolate, and dates? These are date sweetened with gluten free & nut free options, sweet, salty, and crunchy! A perfect grab and go treat to keep in the freezer or serve at a party.
Ingredients
Bottom layer:
- 2 1/2 cups flake cereal of choice (bran, corn, protein cereal, etc. I used unsweetened bran flakes)
- 1 cup peanut butter (can sub sunflower seed butter for a nut-free option)
- 1/3 cup pumpkin puree
- 3/4 tsp pumpkin pie spice
- 1/4 tsp salt (reduce to 1/8 tsp if using salted peanut butter)
Top layer:
- 1 tbsp coconut oil
Optional toppings:
- 1/4 cup crushed peanuts
- flaky sea salt
Line an 8x8 pan with parchment paper.


In a small saucepan, whisk together Just date syrup and pumpkin puree. Bring the mixture to a low boil, then let simmer at low-medium heat for 5 minutes to thicken, stirring often. Remove from heat and let cool for a few minutes.


While the mixture is cooling, add cereal to a bowl and use hands or a fork to partially crush the flakes.


Add peanut butter, pumpkin pie spice and salt to the cooled mixture and stir. The texture should be like a thick paste at this point.


Stir cereal into mixture until well combined, then use hands or a spatula to press the mixture evenly into the lined pan. Place in the freezer for 1-2 hours.


Once your bottom layer is completely frozen, the chocolate layer can be added. Melt chocolate chips and coconut oil in a double boiler or microwave, then pour over the bars in an even layer. Sprinkle with peanuts and flaky sea salt if desired.


Freeze until chocolate layer is partially hardened then removed from the pan and cut into desired size. (If you are not concerned with chocolate cracking/even pieces, you can wait 1-2 hours until completely hardened).


Devour! These bars are best kept in the freezer.