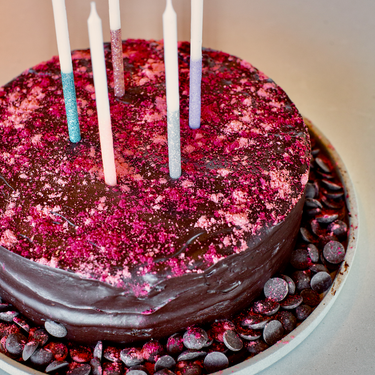 Birthday Cake with Pink "Fairy Dust"
Transform your cake creations with our "Fairy Dust" – a magical sprinkle alternative filled with natural goodness! Our founder's innovative solution, using ground freeze-dried strawberries and raspberries, ensures a delightful and wholesome surprise for any birthday celebration. Paired with our new Dark Date-sweetened Chocolate Chips, this cake caters to both gluten-free and vegan preferences without compromising on taste. Dive into the enchantment of this fairy-tale treat, where every bite is a resounding hit among happy kids. Elevate your baking game with this creative twist and discover the joy of a sugar-conscious, crowd-pleasing dessert!
Ingredients
8 tbsp unsalted butter or Miyoko's salted vegan butter brought to room-temperature
3/4 cup + 1 tbsp Just Date Sugar, sifted
3 room-temperature eggs (Place in a bowl of hot water - not boiling - for 10 minutes to get to room temp. Room-temperature eggs prevent seizing of the butter)
1 cup all-purpose flour or Bob's Red Mill 1-1 Gluten-Free flour
1/2 tsp baking soda
1 1/2 tsp baking powder
1 tsp vanilla powder (optional, but makes a difference in flavor!)
1 tbsp vanilla extract
1 squeeze lemon juice (important to set off the baking soda for rise)
1/2 cup whole milk or Forager Project cashew milk (I love this one for vegan baking projects)

Chocolate Ganache Ingredients
2 cups Just Date Dark Chocolate Chips
1/4 cup virgin coconut oil
1/2-1 cup oat milk

Topping Ingredients
Freeze-dried strawberries
Freeze-dried raspberries
Just Date Dark Chocolate Chips
Layer Cake Recipe (Single Layer)
In a bowl, combine flour, baking soda, baking powder, and vanilla powder if using. Mix with a fork or whisk and set aside.

In a stand mixer, cream the room-temperature butter with Just Date Sugar on low speed at first, and then move the setting to medium-high to get the butter-sugar mixture nice and fluffy. Use a silicone spatula to move the batter down into the bottom of the bowl, and add 3 eggs. Mix on low at first, again moving to medium speed to get the batter fluffy, about 2-3 minutes. On low speed, add in 1/4 cup of the flour mixture at a time until fully incorporated. Next, add a squeeze of lemon juice (about 1/2 tsp), then the vanilla extract, then milk of choice, all while the mixer is on low speed.

The batter should be nice and fluffy, and spreadable, not too liquid. Use a silicone spatula to spread the batter in a prepared cake pan. I use a spray of avocado oil to prep the pan.

Bake at 325F on convection setting for 20-25 minutes, until a cake tester comes out clean and the edges and top of cake are lightly browned.

Let cake layers cool completely and flip onto serving plate. The top of the cake should be on the bottom, so the tops of the cakes are nice and flat.

The cakes will keep at room-temperature, wrapped in plastic wrap for 2-3 days in a cool, dark place.

Chocolate Ganache Recipe
In a double boiler (or heat-safe bowl above a pot of boiling water), bring water to a low boil. Add chocolate chips and coconut oil in glass bowl, stir with silicone spatula. When starting to melt, add first 1/2 cup of oat milk and continue to stir. You should get a liquid consistency after a few minutes of stirring, add more oat milk until the chocolate mixture is coating the spoon and dripping off the spoon slowly.

Add chocolate ganache while still warm in between cake layers, and sandwich cake layers on top of each other. Frost the cake with warm chocolate ganache, covering the tops and sides of the layers. Using an offset bakery spatula will give you the best results on frosting a cake.

Place the layer cake with frosting in the fridge for 30 minutes-1 hour to set the frosting. Keeping the cake in the fridge longer for up to 1 day is okay, but let it come to a cool room temperature before serving.

"Fairy Dust" Topping Recipe
Grind strawberries and raspberries separately in a spice, coffee, or nut grinder. A strong blender will work too. Sprinkle the freeze-dried powders all over the cake so you have two different pinks dotting the cake.

Place chocolate chips all around the frosted cake on the plate to create a chocolate chip rim.

Enjoy!