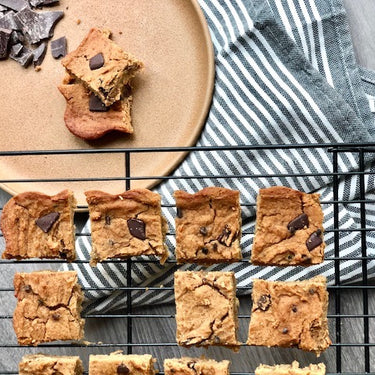 Chocolate Chunk Chickpea Blondies
These vegan, gluten-free blondies are the plant-based treat you've been craving - just a few simple ingredients, a quick bake, and you'll have gooey, decadent dessert with a sneaky amount of protein and nutrients. It's one of my favorite pantry staple treats, using chickpeas, nut butter, and of course, just date syrup.
Ingredients
1 can chickpeas, rinsed well and drained
1/2 cup @AddJoi cashew butter base (or any nut butter of choice)
1/3 cup @JustDateSyrup date syrup
1/4 tsp baking soda
1/4 tsp baking powder
1/2 tsp vanilla
1/2 tsp cinnamon
1/4 cup Just Date Chocolate Chips
Preheat the oven to 350 F and line an 8x8 baking tray with parchment or coconut oil
Blend chickpeas, Joi cashew base, date syrup, baking soda, baking powder, cinnamon, and vanilla in a food processor until smooth
Stir in a roughly chopped bar of Raaka dark chocolate, pour batter into the tray and top with extra chocolate pieces and salt.
Bake for 25 minutes, and let the blondies cool completely before slicing, or else they will be too fragile!