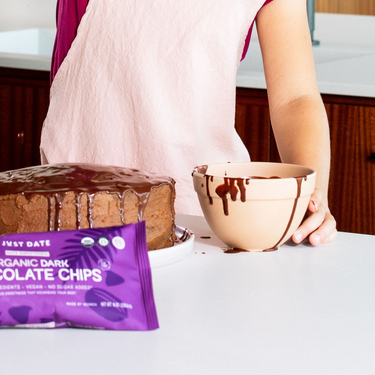 Chocolate Ganache // Refined Sugar Free
This is the last ganache recipe you'll ever need. It's vegan and refined sugar free and full of satisfying chocolateyness. It's so unbelievably simple that it's almost silly making a whole recipe for it but we gotta tell you how easy this is to make so here goes.
Begin by putting chocolate chips in a heat-resistant glass or metal bowl.
Heat the milk on the stovetop until it's just about to simmer. If it reaches a boiling point, it's too hot and may cause the chocolate to separate or even scorch. As soon as you notice small bubbles forming at the edges, turn off the heat and pour half the milk over the chocolate in the bowl.

Allow the milk to heat the chocolate for a bit before giving them a gentle stir. Stir slowly until you achieve a smooth mixture. Add more hot milk for runnier consistency and less for thicker consistency.