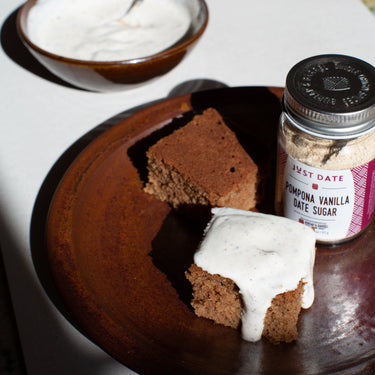 Classic Vanilla Cake
Gluten-Free, Refined Sugar-Free, optional vegan 
You'll never need another cake recipe.
This classic cake is the basis for every unique twist. Add orange zest or soak in infused olive oil. Top with a pomegranate chocolate ganache. Layer with tiramisu fixings. Dust with cinnamon & date sugar, use our Chocolate Date Tahini as frosting, top with our Date Sugar Frosting, or a rustic swirl of yogurt sweetened with our syrups. 
Ingredients
Wet Ingredients
8 tbsp butter, room temperature
(make it vegan with Miyoko's Vegan Butter)
3/4 cup Just Date Sugar, sifted
3 large eggs room temperature (warm by placing in a cup of hot water and let sit for 10 minutes)
(make it vegan with 1/4 cup applesauce + 2 flax eggs: 2 tbsp ground flax + 6 tbsp water, let gel for 10 minutes)
1/2 cup whole milk
(make it vegan with 1/2 cup unsweetened oat milk)
Squeeze of lemon juice
1 tsp vanilla extract
Dry Ingredients
1 cup gluten-free flour or 1 cup all purpose flour, sifted
(we've tested Bob's Red Mill 1-1 Baking Mix)
1 1/2 tsp baking powder
1/2 tsp baking soda
2 tsp vanilla powder or 1 scraped whole vanilla bean
Cream butter, Just Date Sugar, and vanilla bean in a stand mixer on medium until fluffy. Add eggs and mix for 2-3 minutes more. Sift flour with baking powder and soda. Add to mixer with speed on low. Once combined, add milk, squeeze of lemon juice, and vanilla extract and mix on low until just combined.
Bake at 350 for 20-25 minutes, or until cake tester comes out clean and edges are golden brown.